Seed culture, Phase 2 (day 9)
Date: 6/3/13 Wednesday, 6:40PM PST.
My starter seems to be stuck in phase 2. Eh…
Maybe I didn't baby the starter as I needed too.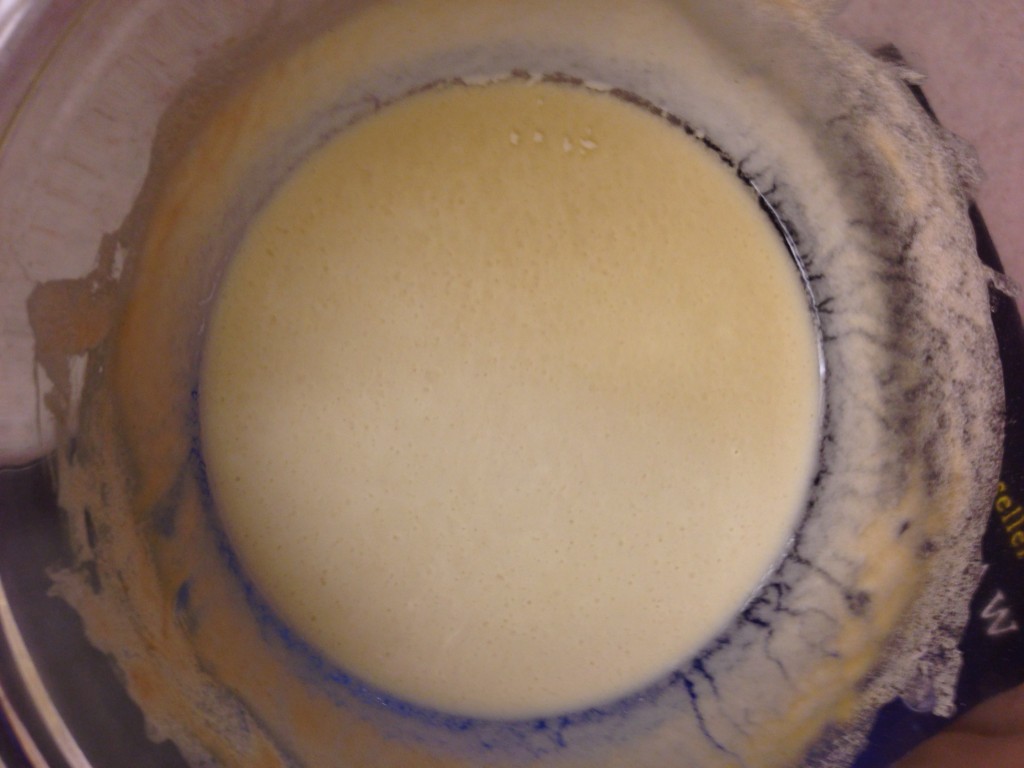 Anyway, I decided to try my hand at a new recipe last night! And its the pain à l'Ancienne rustic bread.
The recipe makes 2 large ciabatta loaves, 3 small ciabatta loaves, or 6-8 mini baguettes.
In Peter Reinhart's Artisan Breads Every Day, the recipe is definitely the most hydrated and least fussy.
Here's the recipe that I followed:
4 1/2 cups (20 oz / 567 g) unbleached bread flour
1 3/4 teaspoons (0.4 oz / 11 g) salt, or 2 1/2 teaspoons coarse kosher salt
1 1/4 teaspoons (0.14 oz / 4 g) instant yeast
2 cups (16 oz / 454 g) chilled water (about 55 degrees F or 13 degrees C)
The dough for this is extremely sticky because of the extra water and smaller amount of bread flour used compared to the classic French bread that I'm used to. The initial mixing was very different as well.
I had to mix for 1 minute, then let the dough rest for 5 minutes.
Next it was mixing for another minute, then transferring it to an oiled bowl and letting it rest covered for 10 minutes at room temperature.
The stretch and fold method was then implemented 4 times within 40 minutes.
After the final stretch and fold, I placed the dough back in the oiled bowl, covered it tightly with a lid, and into the fridge it went.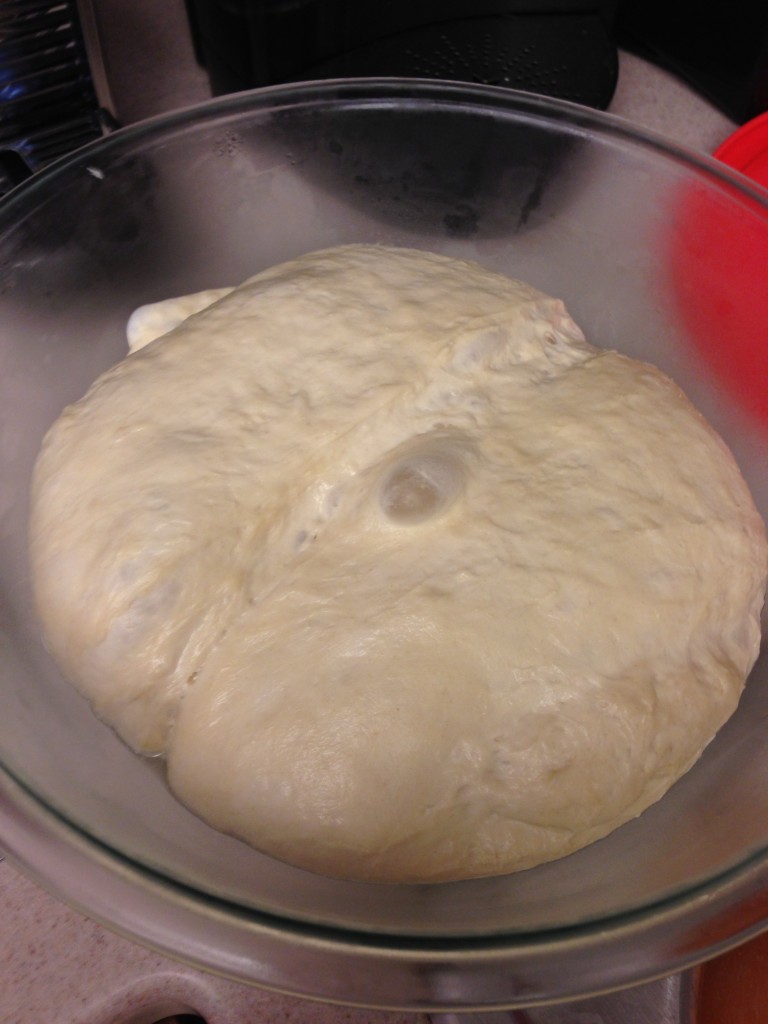 One thing I really liked about prepping for baking day with this recipe is that it's only an hour long versus the classic French bread recipe which is doubled in time.
The dough rests for a full hour.
It is then dusted, shaped into a rounded square/rectangle and cut into long pieces for mini baguettes.
The main difference with this method is that no shaping was required.
This helps with not degassing the dough which creates beautiful air pockets.
Hearth baking environment was 1/2 cup of hot water and the temperature was lowered to 475 degrees F (246 degrees C).
Total baking time is only 12 – 18 minutes!
Here's the final product: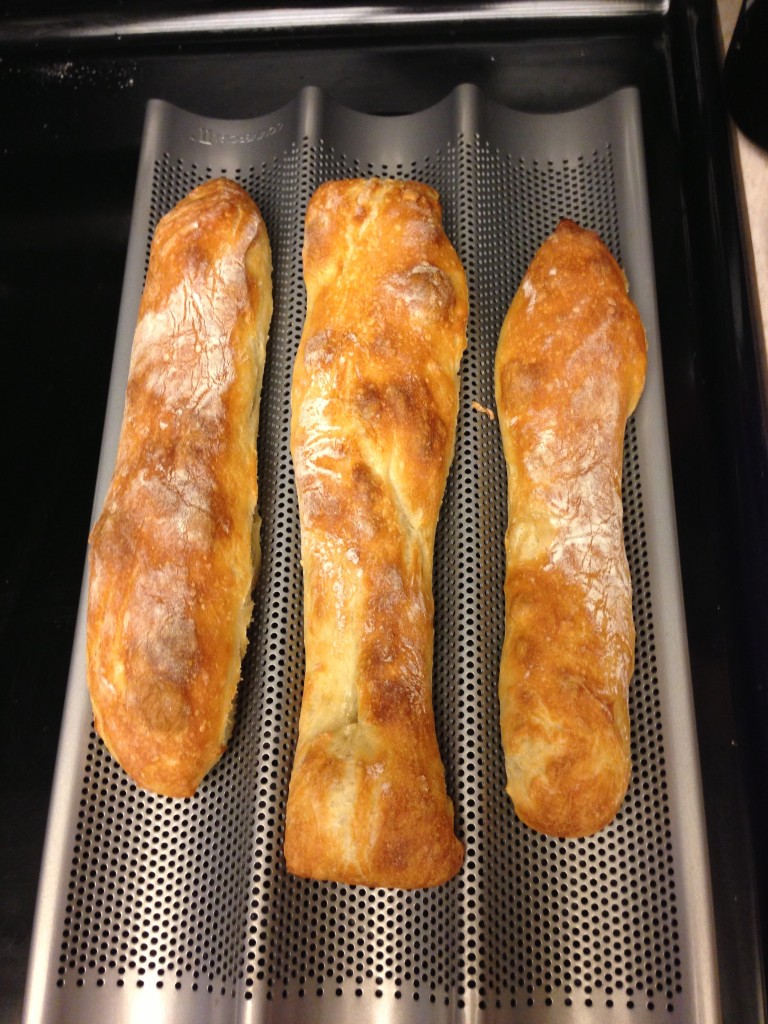 I guess rustic means misshaped and ugly. LOL!
They're so ugly only a mother can love them. 🙂
I paired a mini baguette with some ravioli shrimp soup. The baguette itself was springy, fluffy and the crust was super thin and crusty. I was pleasantly surprised at the texture and taste.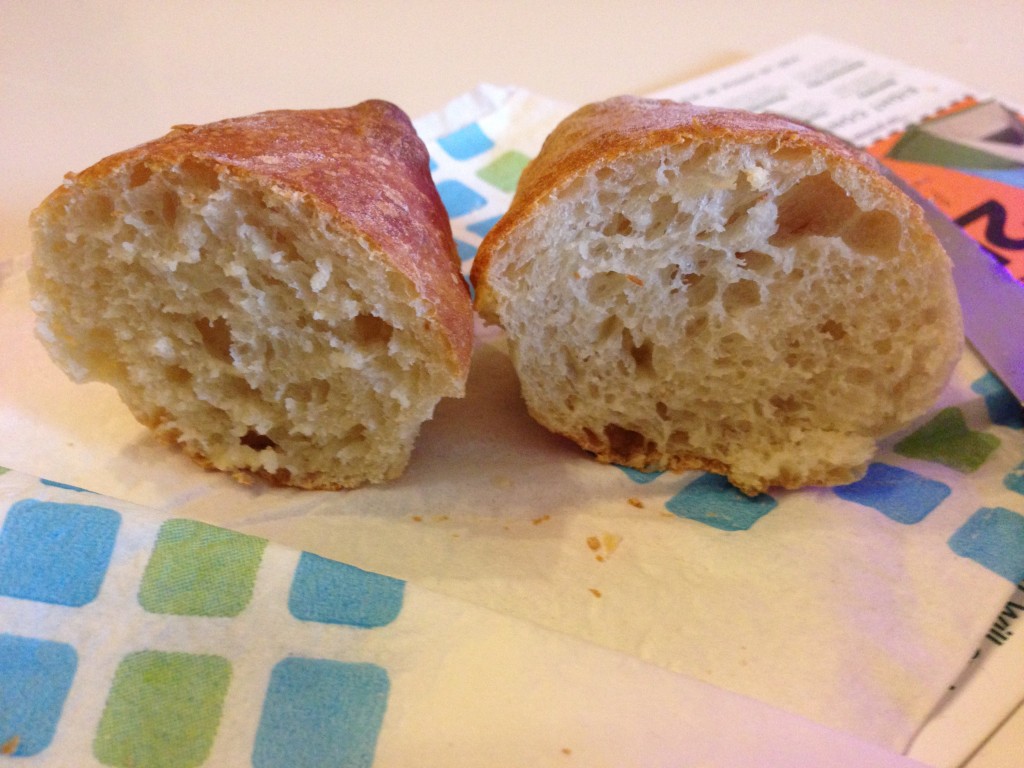 If you want a more detailed explanation of this method, follow this link.
Some notes:
I didn't score the bread. The recipe doesn't recommend it, but you still can if you want.
I didn't stretch the bread out as long as recommended because I like some oomph. 🙂